Editors note: Before you read on, have a listen to this to get you in the mood. It's critical.
Watching on as your life burns to a crisp
If you ever played The Sims as a kid (or as a procrastinating adult) then I can guarantee you have a long list of messed up things that you did to your Sim families that you sometimes confess to when you're drunk at a party.
Made your sim swim in the pool and then taken the ladder to watch on as they drowned? Check. Made your sim cheat on their wife with the dad of the Goth family across the road? Check. Used the motherlode cheat to make your sim super rich so they don't have to go to work and you can make them spend all day working out and flirting with other sims? We've all been there.
 Well this is fucked.
But what are some of the really messed up things you can do on The Sims and what do they say about you as a person? Let's reflect on a few of mine and talk about where that's led me today in my ~real~ life.
1. One time I used a cheat to force my sim to get pregnant with twins and became very disappointed when they were born as boys, so I decided to kill them off. Poor Chip was tragically killed by a torrent of flies, while Dale was simply neglected until Death came to collect him.
I can only assume that this blatant display of misandry was the first sign that I would end up as the evil, reverse-sexist I am today*.
2. In a heinously long Sims binge, my best friend and I created a family with a name that we have both agreed to never speak out loud ever again. We'd created ourselves and the boys we had crushes on at school (classic move) and named our family using a conglomeration of their surnames. This was probably prompted by the fact that Breaking Dawn had just come out and, even though Renesmee is a fucking stupid name, it was an efficient one.
Anyway, stopping only to eat an entire watermelon with a spoon and some chocolate mousse that was meant to serve 8, my best friend and I spent 13 hours (!!!) forcing our school crushes to love us and have sex with us in various public places. When my friend's Sim got married to her guy a penguin attended the wedding. I'm not sure why, but it did.
This, I suspect, was the starting point of a) my binge eating/drinking problem and b) the inherent loss of my ability to feel shame.
 3. In this same family, my best friend grew an obsession with tending to her tomatoes in our sim backyard. She made my sim quit her job and stand out in the snow with no clothes on to tend to the tomatoes until my sim got sick. The tomatoes died anyway. Considering that my best friend told me last night that she had hurt her back gardening, and the fact that I spent a portion of my rent money last month on a new succulent that has already died, this Simnario was probably a direct prophecy.
While these are fairly tame, I encourage you all to take the time to reflect on your Sims debauchery and how this may translate to your life now. Who knows, maybe you'll finally be able to tell your sexual partners why you insist on bringing fire crackers to bed and yelling "woohoo!" every time you get down to business.
*Reverse sexism doesn't exist, chumps.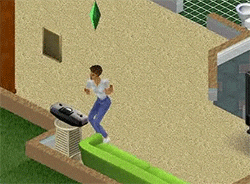 Courtney is a creative writing student at the University of New South Wales. She enjoys proclaiming her love for her local street cat, drinking gin and pretending she is funnier than she really is. Her go-to karaoke song is "Don't Go Breaking my Heart" and she is always Elton. This is non-negotiable. (This is what she'd look like if she was a sim <-------------)
Please reload