What to do in Cairns during the wet season
Note: What follows is an in-depth review of my holiday in Cairns. If you can't be bothered listening to me ramble on about what I liked and didn't like – perhaps you're just here for some location tips – then I've compiled a list of all locations mentioned in this article at the bottom.
Day One
My friends and I just returned from a five day jaunt in Cairns, located in Australia's Northern Queensland. While we imagined ourselves frolicking around in the sunshine and diving in the majestic Great Barrier Reef, mother nature had other plans. Upon arrival, we were greeted by threatening clouds that had surpassed the usual grey colouring us Sydney-siders were used to. These clouds were nearing black, signifying that we were in for a storm riddled week. The sky was pregnant with a downpour that was about to quite literally rain on our parade. To say we were disappointed would be an understatement.
Image: Maddy, Kate and Rosie at Mossman Gorge, Daintree Rainforest.
While we'd be warned of tropical Queensland's temperamental weather conditions, and had watched the news warning of potential cyclones ahead of our visit, the four of us seemed to have pushed that information into the back of our minds (in the same place we store information about when our car rego is due, I'm guessing).
As we slumped onto our beds at the Traveller's Oasis and chewed through the humid Cairns air we resigned to the fact we'd have to alter our plans. The Great Barrier reef was too dangerous with intense winds slicing through the coastline, and our planned drive to the Daintree rainforest would have to wait as the area was flooded.
We started out small with a trip to Rusty's fruit market located in the town's centre. It was filled to the brim with fresh, local produce; food stalls and little knick-knacks – a great place for us to refuel our stomachs and our expectations. It feels as though you're in a bustling produce market in a South East Asian country. We had a Banh Mi roll from a man who claimed he made "the best in the area". He wasn't wrong, it was delicious, which was almost a shame because he was a bit of a dick.
Image: Eloise at Rusty's Fruit Market.
After lunch, the rain cleared and we were able to take a 20 minute drive to neighbouring town Redlynch which houses the Crystal Cascade falls (a must see). When it's overcast and dreary, a rainforest is the perfect place to be. Such a place flourishes in a cool and damp environment, and the lack of sunshine wasn't an issue as the lush greenery acted as a canopy sheltering us along our walk. It's a short journey (under 2km) up a slight incline with water holes spotted along the way that you can swim in. At the end is a majestic waterfall. While I wouldn't recommend swimming near the waterfall (you'll get swept up in the current), it's a great spot to lounge around on the rocks and dip your toes in. All hope was renewed after spending time in this oasis. I wish we'd had time to go back.
Image: Kate at Crystal Cascades
Unsurprisingly, it started raining while we were at the waterfall, but as we were sitting on the rocks, looking up at the stunning scenery surrounding us, the rain kind of made it more beautiful. We embraced the moment by singing Hilary Duff's 'Come Clean' at the top of our lungs: "Let the raaaaain fall down and wake my dreams, let it wash away my sanity... etc. etc."
Image: Maddy, Eloise and Rosie walking up the path of Crystal Cascades.
We also spent A LOT of time in our hostel's pool during the torrential rain. It would have been a mistake to hide away inside just because of a little (read: a fucking huge amount) of rain. We were already going to get wet, why not make the most of it? We definitely annoyed all the other guests at the hostel with our shouting, wrestling, laughing and splashing each other... oh, and of course, more loud Hilary Duff singing. But hey, when in Rome, right?
Day Two
On day two, our food journey reached its peak. We started with a delicious breakfast at Tattle cafe (part of The Chambers). The food here is a little fancier than their local counterparts but definitely worth it. We had breakfast here twice (the shakshouka is amazing) and would have loved to try out their dinner menu. At night, Tattle turns into a restaurant called SoMo and there's a cute cocktail bar out the back called Esters.
This is a great place to come if you'd like to add a touch of elegance to your trip. They make great iced lattes too.
Images: @thechamberscairns
During the day, we made the one and a half hour drive to Innisfail to visit Paronella Park. This place has a fascinating history, which I won't go into in depth. In short, the land was purchased in the 1930s by a Spanish man named José Paronnella and acted as a cultural hub for Innisfail's finest with two small "castles", a theatre, tennis court, cafe, gelato bar, live music space all housed within a truly stunning rainforest. The main attraction though is Mena Falls, which can be seen (or heard) from almost every point of the property.
Due to Queensland's wild weather and cyclone visitors, the property has been in rapid decline since its hey day, giving you the impression you're wandering through ancient ruins rather than an 80-year-old man's adult playground that has succumbed to Australia's harsh weather conditions.
Admission to the park costs around $40 which includes a guided tour that provides interesting information about José's story and family history with a surprise twist ending. We spent a few hours here and really enjoyed ourselves.
You can read the full history of Paronella Park here.
Images: various parts of Paronella Park.
Back in Cairns for dinner and we opted for Fetta's Greek Taverna – a very good choice indeed. This place is simple in its decor and traditional in its approach. Just moments after ordering our food, music flooded the restaurant and the staff all started doing Zorba's dance. Before we knew it, we too were joined arm in arm with the staff, dancing around the other patrons while the owner smashed plates at our feet; it was so much fun. We ate our food (it was delicious) consumed a few too many cocktails (they were cheap) and the smashed plates were still scattered across the restaurant's floor.
"It must be expensive to be smashing that many plates each night, I wonder how much it costs them per year to do that?" I joked with the girls. "Isn't that an OH&S issue? What if someone cuts their foot?" Then I realised how much of a white girl I was being and we left.
We ended the night dancing on the table tops at The Woolshed. Even though there were two fights and one gross wet t-shirt competition while we were there, we still had fun (might have been something to do with all those cheap cocktails beforehand). There's nothing particularly special about this club but it does the job. We all woke up sufficiently hungover the next day.
Day three
We drove through Palm Cove but the weather was gross and the water was murky, so it wasn't as nice as the pictures online suggested it would be. However, had it been a clear, sunny day I can see the appeal. This would be a great spot to come for brunch and to go for a nice stroll along the water's edge, just keep your eyes peeled for crocs.
Next we moved onto Port Douglas for breaky. Everyone was really hungover, so spirits were low and we didn't explore much further than the first cafe we stumbled upon. I think it's the kind of place you should dedicate a whole day to. From what I can see online there's plenty to explore, but we unfortunately didn't have the juice to keep going.
When we'd all slightly recovered, we took another drive to the edge of the Daintree Rainforest to visit Mossman Gorge. It was a lovely walk to the water, albeit short. We enjoyed sitting by the rocks, dangling ourselves in the water and reading our books. We were all very much in recovery mode, but not for long because we'd have to head home and get ourselves ready for NYE.
Image: Maddy reading her book at Mossman Gorge.
Gilligans was the place to be for NYE in Cairns and boy did it deliver. This place is freakin' huge. There's a massive outdoor area with a pool (for the daytime only, you don't want drunk fools splashin' about at night) and a live music space.
Inside there's a huge airy dance floor with lots of windows around so you don't feel like you're in a cesspool of sweat (even though you totally are). Upstairs are a few smaller dance floors. It's a vibe for those who enjoy a little bump and grind.
Images: sourced from Gilligan's Facebook page.
Gilligans also has a hostel upstairs, if you're into that kind of life. I'm not about rolling out of bed and onto a dance floor but hey, you do you.
This is how we brought in 2019; it was very fun. Bless whoever blew up all those balloons. Your effort has not gone unnoticed.
Image: sourced from Gilligan's Facebook page.
Day Four
We didn't do much of note on day four, but it was the first truly sunny day, so we were stoked. We had a bad breakfast experience at Candy's Cafe on the main drag – they were the only cafe in the area that was open and just couldn't handle the amount of people that turned up (not that many, really). Our orders were forgotten (twice), one of the staff was really rude to us, everything came an hour and a bit after we'd ordered it and the quality of the food was really poor. To their credit, we didn't have to pay for our food, but it left a sour taste in our mouths.
We spent the rest of the day floating in the pool, napping, reading and then we got massages. It was a truly luxe way to start the year.
Image: Kate on her sixth hour of pool floating at Traveller's Oasis.
Day Five
On our final afternoon in Cairns the sun was blistering down, go figure, and we spent the afternoon in the man-made "lagoon" near the city's esplanade. This is Cairn's solution to the lack of beach swimming options. It was mainly full of toddlers who were most definitely pissing in the water, but we embraced the sunshine vibes and splashed around like actual children for a good hour or so. A great way to end our trip and we just managed to get a tinge of that tan we'd been chasing for the four days prior.
Image: Cairns lagoon. Imagine this filled with children. Source.
TL;DR - Recommended places to see in Cairns
To eat
Fetta's Greek Taverna for dinner and a show (Zorba dancing and plate smashing). Great food and cheap cocktails.
Rusty's Fruit Market for a light lunch/snack or to pick up some produce if you plan on cooking your own food.
Tattle (The Chambers) for a luxe breakfast, lunch, dinner or fancy drinks session.
Caffiend for a good coffee.
To dance (and drink)
Woolshed for a dirty night dancing on table tops and drinking cheap beer.
Gilligans for a big party night full of great dancing tunes and tequila shots. This place is huge (lots of windows for airflow which is great when you're getting sweaty in the clerb). There's a lot of space to hang out here, with each section offering a different 'vibe'. Something for everyone.
To stay
Traveller's Oasis - a cheap and simple hostel with a clean, quiet and relaxed environment. The staff are really friendly and helpful. There's also a small pool for you to bob around in.
Gilligans - above the huge nightclub is accommodation (shared rooms) which is handy for those who really want to embrace the party lifestyle and roll out of bed and onto the dance floor. I only saw this accommodation briefly, so can't comment on the vibe, but I'd hazard a guess and say it's not the place to kick back and read a book.
To visit
Crystal Cascades - a gorgeous set of waterholes coming off a large waterfall at the tip. There are places to swim here and it's a great spot to cure a hangover.
Paronella Park - a castle ruin in the rainforest that was built in the 1930s. This is a great day trip. It's $40 entry but it's worth it for the information you get on the tour and knowing that you're supporting the upkeep of a very special place.
All the great local op shops - cheaper than op shops in larger cities with a lot of great gems to be found.
Mossman Gorge (at the very end of the Daintree Rainforest) - nice, short rainforest walks and swimming areas (when the weather permits). Ask staff at the information session when it's safe to swim.
Palm Cove - a small beachy vibe. Weather was terrible when we were there but it would be a lovely spot to get brunch on a sunny day.
Port Douglas - a small sleepy town with a few shops and cafes. A nice place to go if you're after a low key day and want to go for a drive.
Josephine Falls - you can swim at these waterfalls. We didn't get to go here but met a few people that did and enjoyed it.
Cairns lagoon - a man made, shallow swimming pool. You're guaranteed to not be eaten by a croc here and it's almost as if you're at the beach. Almost.
Barron Falls in Kuranda - we had a nice walk along this area but it wasn't my favourite place. We'd seen a lot of waterfalls at this point, so it didn't feel spectacular. Nice though, but wedged in a weird hippy town. A lot of white folk with dreadlocks...
Now I've just got to get myself out of holiday mode before I go back to work...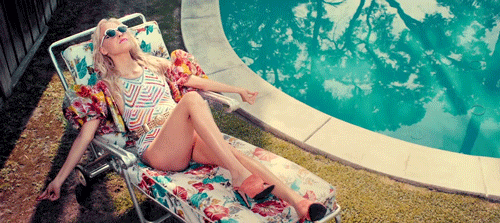 Images: Eloise Alcock - @tumbleweese and as sourced.
Kate is the founding editor of Twenty Something Humans. She likes to consume her morning coffee and toast in bed and feels awkward writing about herself in third person. You can lurk her @katiepotatierose.