Where would the SATC ladies be in 2018?
The Sex and the City series has been labeled as one of the most iconic TV shows of the late 90s; for anyone who appreciates a good cocktail, loves dishing sex details over brunch and salivates at the thought of a pair of manolo blahniks – FYI, they've just released a range of footwear inspired by Ms Bradshaw herself.
The show, still being so popular, has every woman desiring Samantha's sexual confidence, Charlotte's poise and elegance, Carrie's wild taste in fashion, and Miranda's cynical sass. At the end of the second SATC film, their stories end on a positive note.
We see Samantha having a special rendezvous (if you know what I mean...) and the other three genuinely happy in their marriages. However, "I couldn't help but wonder"… where would they be now?
Here is my fantasised version of 'Sex and the City 3'.
Carrie is still all about the love
Carrie, still being the questionable and indecisive woman she is, has almost broken off her relationship with Mr. Big twice since they married at New York City Hall.
Big's mild flirtation with international models made Carrie question "Why do men constantly repeat their mistakes? Is the fantasy of wanting what you can't have still a relevant theory in 2018?"
When the going gets tough, Stanford takes Carrie to Il Cantinori for cosmos and provides some perspective, saying at least it isn't her 35th birthday all over again – when she was stood up by all her friends and dropped her own birthday cake in wet cement.
Carrie's whole life was New York and the surrounding love, sex and failed relationships that came with it, but in 2018 she's expanded her high-heeled global footprint.
She has travelled to five different countries with Mr Big tagging along. In her recent travels, she's written novels about the 'love culture' in each city, to accompany the many other novels she has penned. So far she's covered Paris, Rome, Barcelona, Berlin and Bucharest. In each city, her and Big spice up their relationship by renewing their vows, and continue to 'make their own rules' in their marriage.
Although she's travelling around the world, her apartment in the Upper East side will always be hers. Charlotte still collects Carrie's mail and tends to her plants while she's out of the country.
Charlotte is a highly successful Mommy Blogger
Charlotte has always strived for a successful life. To her this meant having the perfect marriage, the perfect family and the perfect image. Getting in touch with social media and new technology, Charlotte decides to exhibit the most important part of her life – her children – gathering her a local fan base of 1.6 million Instagram followers.
She attends fabulous events, acts as a motivational speaker for new parents and writes on her successful blog 'Manhattan Mommy' once a week. Her daughters, Lily and Rose, are portrayed as the most perfect daughters in NYC on Instagram, wearing designer clothes and carrying elegant style just like their mother.
Charlotte is still happily married to the ever so wonderful Harry. Promoting their relationship through her blog, he has actually been voted 2018's sexiest man in New York, and for all the right reasons.
Sometimes, when she's wandering the streets of NYC – in pursuit of the perfect selfie light – she'll run into Trey (who recently moved back in with Bunny; she's still alive would you believe!?). They make awkward chit-chat and then swiftly exit conversation. Charlotte immediately books herself in for an emergency therapy session, undone by the thought of when Trey couldn't get it up.
Also, she hasn't shit her pants in the last ten years, which is great news.
Samantha finds herself
After all these years, Samantha runs into her old flame Richard. He reminds her of how much she loathed him after their last sexual encounter at a party she attended with Smith well over a decade ago. Samantha seeks advice from a fortune teller who scares her into thinking she will die soon without feeling fulfilled or satisfied with herself.
Originally, Samantha intended to avoid the confrontation of real life issues by living a life surrounded by people and things that satisfied her. Although, she has an epiphany and ditches the sex-crazed life she's been chasing all these years, choosing to seek pleasure in alternative ways.
She becomes the next Angelina Jolie, volunteering in Africa to give children an education. Not everything has changed though – she does get a little carried away with some of the male volunteers from time to time, but hey, she's only human.
As Samantha herself once said: "I will not be judged by you or society. I will wear whatever and blow whomever I want as long as I can breathe – and kneel."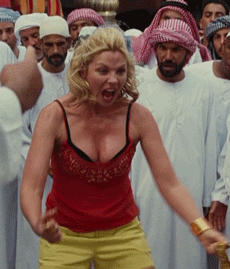 She regularly flies back to New York to visit her three best girlfriends for cosmos and a catch up.
Miranda takes on leadership
Steve and Miranda have hit something of a dry spot in their fourteen year marriage (again). Every Thursday night they try and reignite the spark with "date night" but it usually ends with Miranda aimlessly scrolling through her Twitter feed while Steve stares into his soup. Their chemistry may be off from time-to-time, but they always make up for it in the bedroom.
Brady, who suffers from long-term problem acne, has landed his first ever girlfriend. Miranda and Steve couldn't be more proud.
Switching from law to government, Miranda is following in the footsteps of real life Cynthia Nixon, and is running for Governor. Samantha is her biggest supporter and marched around New York city screaming out zingers about the opposition.
Miranda is successful becomes the first female governor of New York and uses this position to promote social reform and other progressive values. She celebrates by popping a Veuve Clicquot (or three) with the girls.
It's no wonder why so many of us are so fond of the famous friendship of Carrie, Samantha, Miranda and Charlotte. They lived fabulous lives, had great moments of laughter and never gave up on each other.
'They say nothing lasts forever; dreams change, trends come and go, but friendships never go out of style.' - Carrie Bradshaw.
Claudia is a Sydney-based writer who is addicted to 'useful' BuzzFeed quizzes, a diehard Sex & the City fan. She's also well-versed in pretending to know a Cab Savs from a Pinot Noir. You can find her Instagramming as @claudia_siron and you can check out her portfolio here.